Help with searching the Bartholomew Archive Printing Record
Background
This form searches the catalogue of the Bartholomew Archive Printing Record.
The Printing Record contains a copy of everything the firm printed between 1877 and 2002. Each item is annotated with the date of printing and number of copies made.
Cataloguing is ongoing with around 3000 new records added every year. As a result the date range of records that can be searched is continually growing. Cataloguing reached the end of 1905 by May 2010.
Searching by Place
You can use this search to find maps of specific geographical areas, ranging from the world to individual towns. You can search by either modern or historical place names. The format of place names in this catalogue follows the Getty Thesaurus of Geographic Names.
Sample searches: Africa, Europe, Scotland, Burma, Caithness, Dundee, Western Isles.
Helpful tips:
This search is particularly useful if you are searching for a specific place rather than a specific map.
It should be noted that a place search is based on the geographical area that a map shows rather than what the map is called. For example, a map which is entitled 'Chinese Empire and Japan' will be found by conducting a search for Asia.
Searching by Creator
You can use this search to find items that Bartholomew printed for individuals or other companies. The style of personal and corporate names in this catalogue follows the National Council on Archive's Rules for the Construction of Personal, Place and Corporate Names
.
Helpful tips:
Personal names are inverted, e.g. 'Bartholomew, John George', 'Buchan, Alexander'
Corporate names are not inverted, e.g. 'Caledonian Railway', 'John Walker', 'George Philip'
Creators are only recorded when the names of individuals or companies appear in the title or other prominent place on the item. N/A in the Full Record means that no Creator is attached to a record. However this information can normally be acquired from other sources in the Bartholomew Archive if required
Searching by Title
You can use this search to find specific items where you know the title. The title search searches for keywords within a title so you can also use this to conduct thematic or subject searches.
Sample searches: 'Dominion of Canada by John Bartholomew', 'Pictorial Map of Killarney' , 'Railway'
Helpful tips:
Titles have been catalogued exactly as they appear on the item, you can include all articles e.g. 'The Pictorial Plan of London'
The search does not recognise punctuation
Many of the titles are descriptive, especially for those items which do not have a proper title e.g. 'Poster advertising Bartholomew's Pocket Plan of Edinburgh and Suburbs'
For best results try to use single words when conducting a title search
This search is particularly useful for finding a named map that you would like to date
Searching by Year
You can use this search to find items printed in a specific year or within a range of years. To do this you can:
Use just one to limit your search to everything up to a year or after a year. e.g. Start Year 1895 searches everything printed in 1895 or later
Use both Start Year and End Year to search everything between two years. e.g. Start Year 1895 and End Year 1899 searches everything printed between 1895 and 1899
Helpful tips:
Please note that the year relates to the year an item was printed rather than when it was published
Searching by Format
You can use this drop down list to search for particular types of publication, e.g. 'Calendars', 'Diagrams', 'Gazetteers', 'Maps', 'Topographical views'. For definitions of the formats used see the Getty Art and Architecture Thesaurus.
Combining Searches
You can combine some of these searches for more refined results. Place, Creator, Start Year, End Year and Format can be searched in any combination.
For example:
Place combined with Start Year and End Year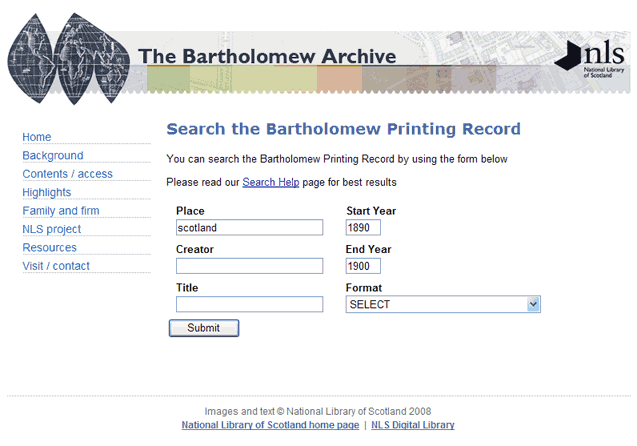 Place combined with Format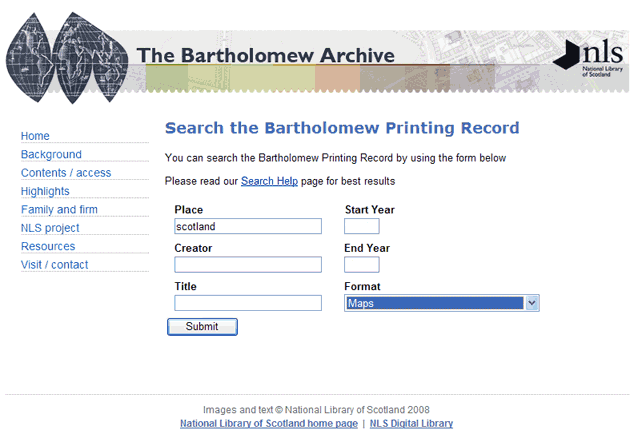 Creator combined with End Year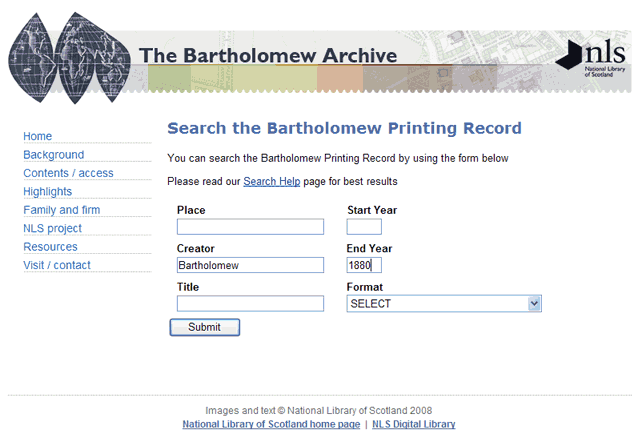 You can also combine a Title, Start Year and End Year Search. For example: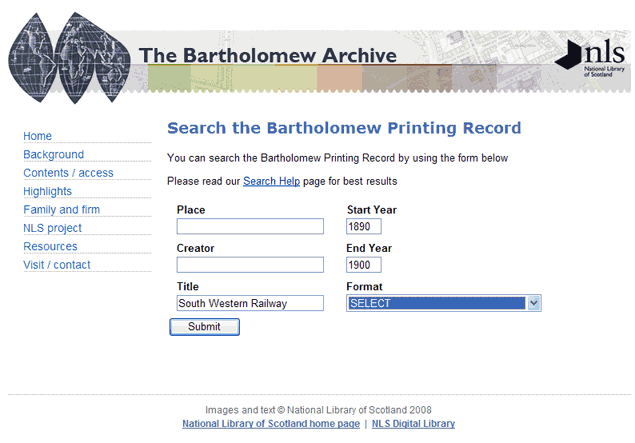 However, you cannot currently combine some searches:
Title searches cannot be combined with Format
Titles searches cannot be combined with Place or Creator
For more information or for further help, please contact maps@nls.uk