Highlights from the Bartholomew Archive
Bathymetrical survey of Scottish lochs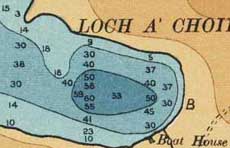 Maps of Scottish lochs published over 100 years ago by Bartholomew are still of major value today.
The Bartholomew mapmaking firm produced sound maps for oceanographer Sir John Murray's Bathymetrical Survey of the Fresh Water Lochs of Scotland.
This survey was the first comprehensive examination of the depths and nature of Scottish lochs. Between 1897 and 1907, Sir John Murray took 60,000 soundings of 562 major Scottish lakes. He went on to create detailed charts showing the depth of lochs.
The Bathymetrical Survey was widely recognised at this time, placing Scotland at the forefront of organised lake studies (limnology).
John George Bartholomew's contribution
John George Bartholomew was an obvious and appropriate cartographic publisher for Murray to choose for the job. Bartholomew's relief shading was widely acclaimed internationally. His geographical knowledge and his support of science were also well-known.
Printing a sound map
Once the survey of a loch was completed, Bartholomew plotted soundings on clean tracings of cloth from Ordnance Survey maps. He then went through the following stages:
Drawing contour lines of depth at equal intervals
Measuring the areas within contour lines with a planimeter
Calculating the volume of water and mean depth
Preparing copies from the cloth tracings
Revising them in the Challenger Office in Edinburgh (the Bathymetrical Survey office)
Reducing them to half-size (the scale of 3 inches to the mile) by photography
Transferring them to lithographic stones for printing.
All 223 colour bathymetric maps are available online.
Other highlights from the archive:
Top of page