Litho Stone Polishing Room
Lithographic stones replaced copper plates as the main printing medium during the 19th century. Lithographic stones were durable and could print many more copies than printing directly from a copper plate.
Lithographic stones are made from good quality limestone and if they are looked after, they can last a lifetime. Bartholomew used and re-used their lithographic stones, and the stone polishing room was where they went to be prepared for re-use.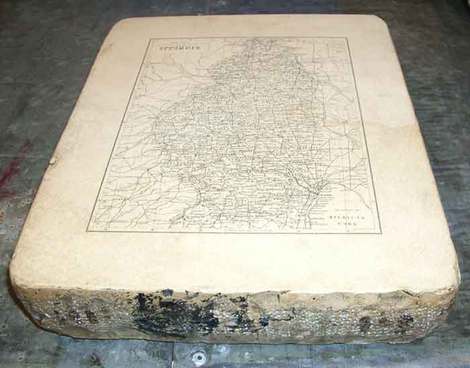 A lithographic stone
This is an example of a Bartholomew lithographic stone. It is relatively small, about the size of an A4 sheet of paper, but it is extremely heavy. Bartholomew used this one to print a map of the American state of Illinois. (See next image.)
Lithographic stones could be many times bigger than this and weigh over a tonne. The stones were made from high-quality limestone, quarried in Germany.
This particular stone was able to cope with heavy printing machinery but could also be polished, creating an extremely smooth printing surface.
Printed map of Illinois
Bartholomew printed this map of Illinois on 14 July 1892. It is a printed version of the map on a lithographic stone. (See previous image.)
This particular map was produced for the North American edition of 'Chambers' Encyclopaedia', published by the Philadelphia-based firm J B Lippincott & Company.