The Library
Bartholomew's library was largely composed of flat-sheet maps and atlases published by other mapmakers. It also contained comprehensive background materials relating to the mapmaking process itself.
The library was extensive, with maps and atlases that covered the whole world. Some of the material was very old and some items were extremely rare.
More about Bartholomew's library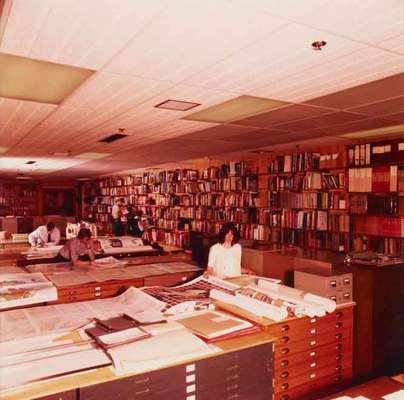 The library at Duncan Street
The library in Duncan Street as it looked in the 1970s and '80s.
The rows of books and numerous plan chests, used for storing flat sheet maps, show how comprehensive this collection was
The Park Road library
A photo of Bartholomew's library as it looked at Park Road around 1910.
The library resembles a comfortable office, rather than the extensive facility available to Bartholomew's staff at Duncan Street. (See previous image.)