‹‹‹ prev (15) Page 7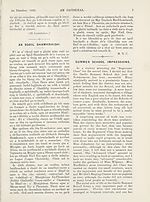 (17) next ››› Advertisements
Download files
Complete book:
Individual page:
Thumbnail gallery: Grid view | List view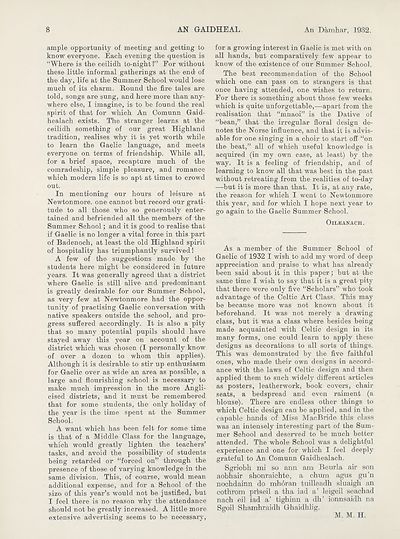 8
AN GAIDHEAL
An Dkmhar, 1932.
ample opportunity of meeting and getting to
know everyone. Each evening the question is
"Where is the ceilidh to-night?" For without
these little informal gatherings at the end of
the day, life at the Summer School would lose
much of its charm. Round the fire tales are
told, songs are sung, and here more than any¬
where else, I imagine, is to be found the real
spirit of that for which An Comunn Gaid-
healach exists. The stranger learns at the
ceilidh something of our great Highland
tradition, realises why it is yet worth while
to learn the Gaelic language, and meets
everyone on terms of friendship. While all,
for a brief space, recapture much of the
comradeship, simple pleasure, and romance
which modern life is so apt at times to crowd
out.
In mentioning our hours of leisure at
Newtonmore, one cannot but record our grati¬
tude to all those who so generously enter¬
tained and befriended all the members of the
Summer School; and it is good to realise that
if Gaelic is no longer a vital force in this part
of Badenoch, at least the old Highland spirit
of hospitality has triumphantly survived!
A few of the suggestions made by the
students here might be considered in future
years. It was generally agreed that a district
where Gaelic is still alive and predominant
is greatly desirable for our Summer School,
as very few at Newtonmore had the oppor¬
tunity of practising Gaelic conversation with
native speakers outside the school, and pro¬
gress suffered accordingly. It is also a pity
that so many potential pupils should have
stayed away this year on account of the
district which was chosen (I personally know
of over a dozen to whom this applies).
Although it is desirable to stir up enthusiasm
for Gaelic over as wide an area as possible, a
large and flourishing school is necessary to
make much impression in the more Angli¬
cised districts, and it must be remembered
that for some students, the only holiday of
the year is the time spent at the Summer
School.
A want which has been felt for some time
is that of a Middle Class for the language,
which would greatly lighten the teachers'
tasks, and avoid the possibility of students
being retarded or "forced on" through the
presence of those of varying knowledge in the
same division. This, of course, would mean
additional expense, and for a School of the
size of this year's would not be justified, but
I feel there is no reason why the attendance
should not be greatly increased. A little more
extensive advertising seems to be necessary,
for a growing interest in Gaelic is met with on
all hands, but comparatively few appear to
know of the existence of our Summer School.
The best recommendation of the School
which one can pass on to strangers is that
once having attended, one wishes to return.
For there is something about those few weeks
which is quite unforgettable,—apart from the
realisation that "mnaoi" is the Dative of
"bean," that the irregular floral design de¬
notes the Norse influence, and that it is advis¬
able for one singing in a choir to start off "on
the beat," all of which useful knowledge is
acquired (in my own case, at least) by the
way. It is a feeling of friendship, and of
learning to know all that was best in the past
without retreating from the realities of to-day
—but it is more than that. It is, at any rate,
the reason for which I went to Newtonmore
this year, and for which I hope next year to
go again to the Gaelic Summer School.
Oileanach.
As a member of the Summer School of
Gaelic of 1932 I wish to add my word of deep
appreciation and praise to what has already
been said about it in this paper; but at the
same time I wish to say that it is a great pity
that there were only five "Scholars" who took
advantage of the Celtic Art Class. This may
be because more was not known about it
beforehand. It was not merely a drawing
class, but it was a class where besides being
made acquainted with Celtic design in its
many forms, one could learn to apply these
designs as decorations to all sorts of things.
This was demonstrated by the five faithful
ones, who made their own designs in accord¬
ance with the laws of Celtic design and then
applied them to such widely different articles
as posters, leatherwork, book covers, chair
seats, a bedspread and even raiment (a
blouse). There are endless other things to
which Celtic design can be applied, and in the
capable hands of Miss MacBride this class
was an intensely interesting part of the Sum¬
mer School and deserved to be much better
attended. The whole School was a delightful
experience and one for which I feel deeply
grateful to An Comunn Gaidhealach.
Sgriobh mi so ann ami Beurla air son
aobhair shonraichte, a chum agus gu'n
nochdainn do mhdran tuilleadh sluaigh an
cothrom prised a tha iad a' leigeil seachad
nach eil iad a' tighinn a dh' ionnsaidh na
Sgoil Shamhraidh Ghaidhlig.
M. M. H.

Set display mode to:
Universal Viewer |
Mirador | Large image | Transcription
(16) Page 8

| | |
| --- | --- |
| Permanent URL | https://digital.nls.uk/127131204 |
Volume 28, October 1932--September 1933
Attribution and copyright:

Public Domain - This work is free of known copyright restrictions. For details visit our copyright page. https://creativecommons.org/publicdomain/mark/1.0/

More information
Gaidheal
Description
The Gael : the official magazine of An Comunn Gaidhealach. Text in Gaelic or English. Some issues contain a supplement for the young. Began with: Vol. 19, no. 2 (Nov. 1923); ceased in 1967 or later. Continues: Comunn Gàidhealach. Deo-gréine. Continued by: Sruth.
Shelfmark
U.417
Additional NLS resources:
More information
An Comunn Gàidhealach Publications

| | |
| --- | --- |
| Description | This contains items published by An Comunn, which are not specifically Mòd-related. It includes journals, annual reports and corporate documents, policy statements, educational resources and published plays and literature. It is arranged alphabetically by title. |
An Comunn Gàidhealach

| | |
| --- | --- |
| Description | A collection of over 400 items published by An Comunn Gàidhealach, the organisation which promotes Gaelic language and culture and organises the Royal National Mòd. Dating from 1891 up to the present day, the collection includes journals and newspapers, annual reports, educational materials, national Mòd programmes, published Mòd literature and music. |
| Additional NLS resources: | |