Sporting photos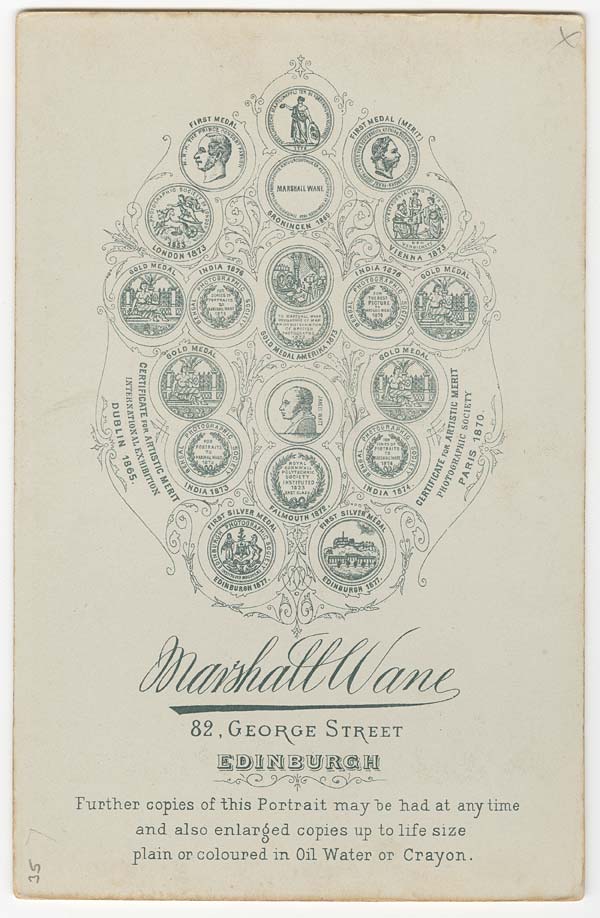 Display zoom image
Printed details of medals and certificates won by the Marshall Wane Photographic Studio
See the photo on the front of this card.
The Marshall Wane Studio
On the back of one of the sporting photo cards is a printed advert showing awards won by the Marshall Wane Photographic Studio.
It indicates awards from places like India, America ['Amerika'], London and Vienna, as well as Edinburgh.
We don't know the name of the photographer who took the sporting photos, but we do know a little about Wane and his studio:
Marshall Wane was born in England in 1833
By the early 1860s he had a photographic studio on the Isle of Man
He opened his Edinburgh studio at 82 George Street in 1879
He died in Glasgow in 1903
His son Charles M Wane was also a photographer
The business was bought by J K Home Crawford in 1907, and was then based at 130 Princes Street, Edinburgh. It was sold in 1916.
Cabinet cards
The sporting photographs are gelatin silver print 'cabinet cards'.
Such cards produced by commercial studios were popular from the 1860s to the early 1900s. They are photographic prints mounted on cards, often with the studio's name on the front and more advertising on the back.
The cards were intended for display in parlours on small stands or frames, rather than in an album.
Cabinet cards declined in popularity in the 1900s when the public increasingly began to take their own photos.