(52) G2 verso-G3 recto (Page 100-101)
‹‹‹ prev (51) G1 verso-G2r (Page 98-99)
(53) next ››› [ G3v-G4 recto (Page 102-103) ]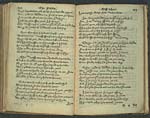 Download files
Complete book:
Individual page:
Thumbnail gallery: Grid view | List view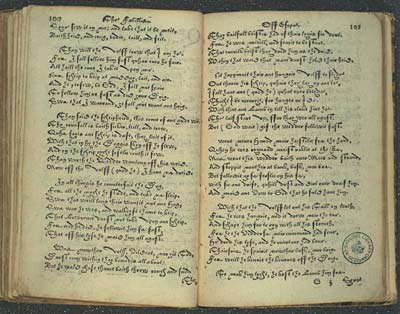 100		The Fabillis
	
	
	Syne sew it on me: and luke that it be meit,
	Baith heid, and crag, bodie, taill, and feit.
	
	
	Than will the volff trow that I am he.
	For I sall follow him fast quhar euer he fair.
	All haill the cure I tak it vpon me.
	Zour scheip to keip at midday, lait, and air.
	And he persew, be God, I sall not spair
	To follow him as fast as did zour doig.
	Swa that I warrand, ze sall not want ane hoig.
	
	
	Than said the scheipheird, this come of ane gude wit.
	Thy counsall is baith sicker, leill, and trew.
	
	
	Quha sayis ane scheip is daft, thay lieit of it.
	With that in hy the doggis skyn off he flew,
	And on the scheip rycht softlie couth it sew
	Than worth the wedder wantoun off his weid.
	Now off the volff quod he I haue na dreid.
	
	
	In all thingis he counterfait the dog,
	For all the nycht he stude, and tuke na sleip.
	Swa that weill lang thair wantit not ane hog,
	Swa war he wes, and walkryfe thame to keip,
	That lowrence durst not luke vpon ane scheip,
	For and he did, he followit him sa fast,
	That off his lyfe he maid him all agast.
	
	
	Was nowther volff, vildcat, nor zit tod,
	Durst cum within thay boundis all about:
	Bot he wald chase thame baith throw rouch and snod.
	
	
			Off Esope			101
	
	
	Thay bailfull beistis had of thair lyuis sic dout.
	For he wes mekill, and semit to be stout.
	That euerilk beist thay dred him as the deid,
	Within that woid that nane durst hald thair heid.
	
	
	Zit happinnit thair ane hungrie volff to slyde
	Out throw his scheip, quhair thay lay on ane le,
	I sall haue ane quod he quhat euer betyde,
	Thocht I be werryit, for hunger or I de.
	With that ane lamb in till his cluke hint he.
	The laif start vp, for thay wer all agast.
	Bot (God wait) gif the wedder followit fast.
	
	
	Went neuer hound mair haistelie fra the hand,
	Quhen he wes rynnand maist raklie at the ra,
	Nor went this wedder baith ouer mois and strand,
	And stoppit nouther at bank, busk, nor bra.
	Bot followit ay sa ferslie on his fa,
	With sic ane drift, quhill dust and dirt ouer draif him.
	And maid ane vow to God that he suld haue him.
	
	
	With that the volff let out his taill on lenth,
	For he wes hungrie, and it drew neir the ene.
	And schupe him for to ryn with all his strenth,
	Fra he the vedder sa neir cummand had sene,
	He dred his lyfe, and he ouertane had bene.
	Thairfoir he spairit nowther busk, nor boig.
	For weill he kennit the kenenes off the doig.
	
	
	To mak him lycht, he kest the lamb him fra.

Set display mode to:
Universal Viewer |
Mirador | Large image | Transcription
Images and transcriptions on this page, including medium image downloads, may be used under the Creative Commons Attribution 4.0 International Licence unless otherwise stated.
(52) G2 verso-G3 recto (Page 100-101)
Permanent URL
https://digital.nls.uk/74507512
Shelfmark
F.5.b.48
Additional NLS resources:
More information
Morall fabillis of Esope the Phyrgia[n]
Description
Moral fables of Aesop put into Scots verse by the poet Robert Henryson.
Shelfmark
F.5.b.48
Additional NLS resources:
More information