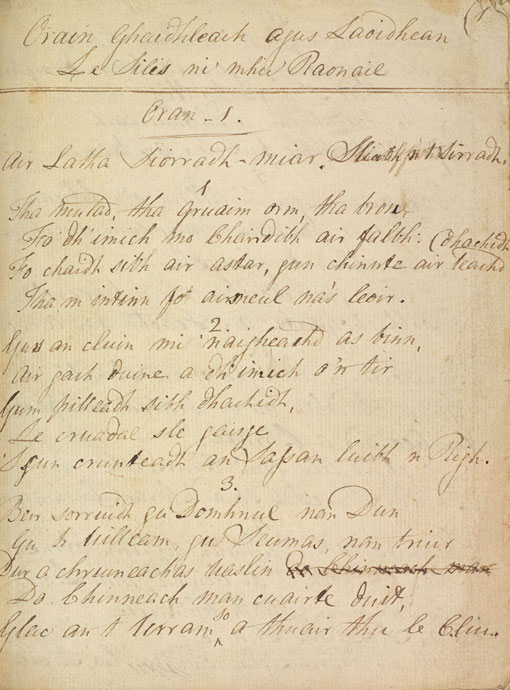 Listen to the song being read out
To The Army of the Earl of Mar or Song on the Battle of Sherriffmuir
Sìleas MacDonald
1
There is sadness, grief, and I am gloomy,
Since my friends have gone away;
Since they have departed
Uncertain in homecoming,
My mind is greatly distressed.
2
May I hear the sweetest news
Of all those who left the land:
May you return home
With courage and boldness,
To crown the king in England.
3
Send a blessing to Donald of the Forts, (Dòmhnall nan Dùn)1
To William and to James, those three:
When the gentry of your kindred
Assemble around you,
Seize the honour you acquired with renown.
4
Send a blessing to grey-haired Alasdair:
To your valour I would entrust good deed;
When you go to blows,
Against your resolute enemies,
Certainly there will be blood on their hide.
5
Send a blessing to Allan from the sea,
Who was a while from us journeying in France:
It is the greatness of your bravery
Which left you without heir,
The champion who slaughters the army of steeled weapons.
6
Send a blessing after the warriors,
To the troop of the heather emblem,
To the chief of the Brae
And to my other friends:
May you ever enjoy victory in hunt and in battle.2
7
Reinforcements are coming to us:
MacKenzie, Fraser and MacLeod,
MacKinnon of Srath Chuailte 3
And the kindly Chisholm;
They will deal eviscerating blows I am sure.
8
"Gig Gig" said the Cock from his cage;
"My scholars are ready to war;
The coward who would not contest,
Put his head in a sack,
And his death will not warrant our sighs."
9
Shake your comb, your collar and your ear,
Exhort the Army of the North,
Don your spurs and be ready
To rip apart your enemies,
And to vanquish Argyll as is custom.
10
Laird of Struan from mountainous Giùthsach,4
You lingered some time in France;
Lift your pipe and your banner—
Now is the time to be active—
To return the Campbells home in hasty retreat.
11
O Lord, I am thankful to that nobleman, Mar
With whom would rise the honourable troop:
With the number of excellent Forbeses
Who are encircling your banner,
James would profit to take them in hand.
12
My despair is with these gentlemen yonder,
By their haste to change their bonds of allegiance;
I am confident in my mind
That they would prefer to be with us
If a Whig were not at their head.
13
Where you have been craven before,
Instead of sighing on the tops of mountains,
Great is the number of pulpits
Now under control of the rabble,
And many's the bishop coerced by the beasts.
14
O Duncan, if you departed,
Your locks have greyed with fame;
May I hear and may I see
Your homecoming,
And your men not abiding at your back.5
15
When you unite with the rest,
How can the Whigs oppose you on the field?
Where is there even one of them
In Scotland or England
That you would not hack apart like cabbage?
16
When you reach London of the Cloaks,
And see the prophecy fulfilled,
A measure of silk
Will adorn your elegant bows
On the bridge, with the thousands at your command.
---
1. The historic personages named in this poem are available in the notes section of the SGTS compendium, as well as Frater (1994, 100). ↩
2. 'May you ever enjoy lasting victory in the field.' ↩
3. Ó Baoill is uncertain as to the location/derivation of this place-name; it is probably Strath Swordale (Srath Shuardail). As it most probably refers to MacKinnon of Strath, that Anglicised title may be the best option. ↩
4. The Black Wood of Rannoch. ↩
5. i.e. rising ↩