Transcription
A STUMP SPEECH.
This Popular Slump Speech can always be had at the
Poet's Box.
FRIENDS AND FELLOW-CITIZENS,-Unaccustomed as I um to
public speaking, allow me to say that when a man stands be-
fore a number of his fellow-men to speak, he assumes a
liberty; and the liberty I am about to assume is to stand be-
fore you to undress the whole lot of you (eh). When we refer
to Glasgow, one of the largest provincial towns in Great
Britain, what did Mr Graham the Member of Parliament say
(eh)? Didn't he say the rising population of the Saltmarket
ought to be franchised, for when a young man arrives at the
age of 18 his first step in life is to get his life insured. Go
down to the insurance office, and the first question they say
to him is-what are you, a male or a female? and how long
have you been so (eh)? These things must be seen into, for
when we refer to Glasgow Green, Julius Cesar tells us there
is a legend attached to that spot, for in the year 55, X Y W
and G, a gentleman having two sons, both boys, aged re-
spectively 17 and 32, and being twins, the sister dies, and
being orphans, the father tells them by his bedside that they
are liable to be indicted for not being vaccinated. Well, is
that any reason the flesher shouldn't have their cattle
vaccinated (eh)? Of course we all know the old saying,
England is the richest power in the world; and why? if she
aint got money we have lots of tick. Didn't Princess Mary
of Cambridge have a little baby by Teck (eh)? But we all
know when a great statesman dies, they always have a fine
tombstone in commemoration of his memory; but there's one
man who will never want a tombstone, and why? because
his name will always be a "Livingstone." We all know
some philosophers say the world revolves round on its own
axletrees; then the question arises, who first discovered the
world? Why, Spurgeon! Then the next question is-Who
were our first forefathers and foremothers? Adam and Eve-
man and wife (eh)? Who married them? why, Dr. Cumming.
Then who was the first women known to man? Why, Adam
was; and why? wasn't he the first maid (eh)? When we
refer to Ireland, the cry is how shall England put down the
Fenians? Why, send them good music. Don't Burns the
Scotch Poet say " Scotland, dear Scotland, the land of song."
England for her national airs, Ireland for simple ballads.
But England's been trying to cultivate the Irish to sing;
they want them to sing one song, and what song is it? why,
"Come back, Stephens," (eh)? Of course, the cattle plague
has gone by. The cry was last year the poor people couldn't
afford the price of good meat, and the remedy was fish; and
where did it come from? Scotland is noted for salmon,
Ireland is noted for herring; that's why they say "Erin-go-
bragh;" but there's one fish in Ireland England can't relish,
and what fish is it? Why, the "Irish Pike." When we
refer to reform, the question is-how are we to franchise the
over-population of Glasgow? for some people have too many
children, others have none at all, especially the ladies be-
longing to the upper ten thousand, for they are advertising
daily for children to adopt. But they need not go far; let
them go to their wholesale grocers and there they will see
outside their doors " families supplied on the shortest notice."
Now, the only thing is, don't eat too many oysters, for
Gladstone had the nightmare. He's had a dream, and in it
he says:-
How doth the little busy bee
Improve each shining hour,
Come down upon our butcher meat,
And turn the whole lot sour.
CURE FOR A CRIPPLE.
This Popular Reading can always be had at the Poet's Box.
IT happened on a Sunday evening, about thirty years
ago, that two sheep-stealers had meditated all attempt
on the flock of a wealthy farmer in the parish of A--
in the west neuk of Fife. The sheep were grazing in
a park adjoining the village churchyard and hard by
the public road. The eldest and most experienced of
the depredators recommended that only one of them
should go in among the sheep, as it would not alarm
them so much as two. Accordingly the younger thief
was despatched to bring a sheep, while the other went
into the churchyard, and sat down upon a through-
stone to amuse himself till his companion returned.
Now it so happened that John, the minister's man,
had forgot to take home the Bible from the church,
after the service of the day was over, which neglect
was not perceived until the minister called for the
books to perform the duty of family worship, when
John was immediately sent to the church for the bible.
John not being possessed of a very daring spirit, and
it being a dark winter night, was not very fond of
visiting the abodes of the dead at such an hour; but
when he arrived at the church-yard gate, and got a
glimpse of the man sitting on the through-stone, his
hair stood on end, and his fears soon conjured the
thief into a demon. Without more ado he wheeled
about, and made the best of his way to the manse,
where he related his wonderful story, telling them that
he saw the devil sitting on a grave breaking dead bones.
An old cripple mendicant, who was quartered at the
manse during the Sabbath (for the minister, contrary
to the general character of his brethren, was a very
charitable man), hearing John tell his appalling story,
laughed at him, saying, " if I was as able to gang as
you, I would soon bring the Bible."
" Well," says John, " if you will accompany me, I
will carry yon on my back, and we'll maybe be able
to bring the Bible atween us."
The beggar agreed, and mounted John accordingly,
after he had wrapped himself in his grey plaid. When
they came within view of the thief, John would very
fain have turned, but the beggar spurred him on, until
they came within a short distance of him, when he,
supposing it to be his comrade coming with the sheep
on his back, exclaimed, " Is he a fat ane ?
John, whose heart was quaking before, on hearing
this question put to him, could no longer resist his in-
clination to turn ; he threw the old man off his back,
saying, " be he fat or be he lean, there he is to ye,"
and run what he was able.
The mendicant, finding that he was thus left to his
own resources to appease the devil as he could, mustered
all his strength ; and, strange to tell, his legs that had
refused to perform their office for many a long year
before, were suddenly strengthened; he soon went
past John, regained the manse before him, and was
never lame after.
Probable period of publication: 1880-1900 shelfmark: RB.m.143(054)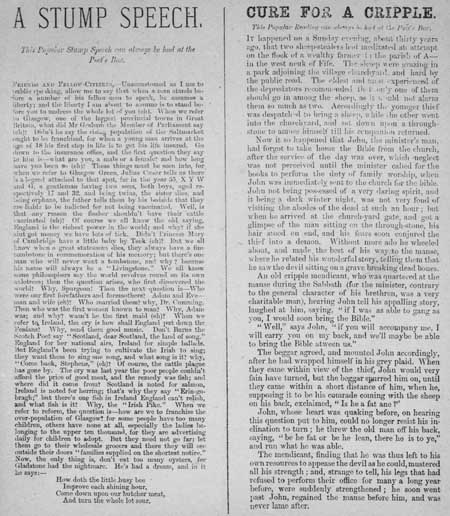 View larger image