Transcription
GRUB STREET nae SATYRE:
In ANSWER to
bag=pipes no Musick.
An EPISTLE to the Umquhile John Comper late Kirk-Treasurer's
Man of Edinburgh; now his Ghaist studying Poetry at Oxford, for
the Benefit of Ethert Curl.
DEAR John, what ails ye now ? ly still:
Hout Man! What need ye take it ill
That ALLAN buried ye in Rhime,
May be a Start afore ye'r Time ?
He's nathing but a shire daft Lick,
And disna care a Fidle-stick,
Altho your Tutor Curl and ye
Shou'd serve him sae in E L E G Y.
DOUP down doild Ghaist, and dinna fash us
With Carpet Ground, and nervous Clashes;
Your Grubstreet Jargon DRYDEN wounds,
When mixt with his POETICK SOUNDS.
You pace on Pegasus!. Take Care,
He'll bound o'er furrow d Fields of Air,
And fling ye headlong frae the Skies,
Never a second Time to rife:
With sic a Fa, alake ! ye'll e'en a'
Dash into Sherds like broken China.
China and Men the same Fate skair,
Ah me ! baith bruckle Earthen Ware.
LANG serv'd ye in a mettl'd Station,
The foremost Beegle of our Nation,
For scenting out the yeilding Creature,
Wha us'd to play at Whats-the-matter:
But now, O fy for Shame to trudge,
Ned Curle's poor Hackney scribling Drudge,
To fill bis Pack, while you right fair
Gain Title braw ! His singing Bear.
But, John, Wha taugnt ye ilka Name,
That shines sae bonnily in Fame,
ROSECOMMON, STANHOPE, RAMSAY, DRYDEN,
Wha back of winged Horse cou'd ride on ?
A them we ken ; but wha the D?
Bad you up Hill Parnassus speel.
You RAMSAY make a feckfu' Man,
Ringleader of a hearty Clan:
Goodfaith it sets ye well to fear him,
For gin ye etle anes to steer him,
He'll gloom ye dead ;?in Rustick Phrase
He'll gar his Thistles rive your Bays.
Kinghorn, 16th
November 1720.
PATE BIRNIE.
Date of publication: 1720 shelfmark: Ry.III.c.36(072)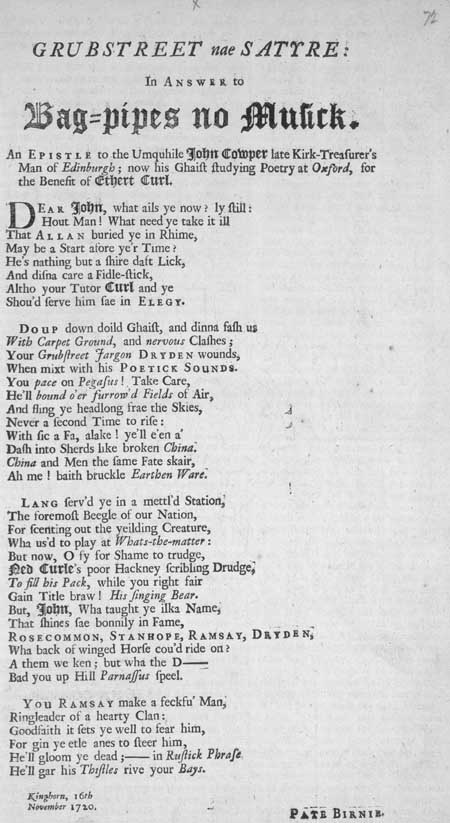 View larger image