Hand-drawn map covers
Bartholomew were meticulous when it came to every stage of the mapmaking process, regardless of whether they were working on their own publications on those of others. Map and atlas covers were no exception.
However, as with their advertising posters, on occasion this meant seeking the assistance of external expertise.
In the late 1920s, Bartholomew worked in collaboration with John Swain & Son to produce two distinctive map covers for new editions of Automobile Association publications.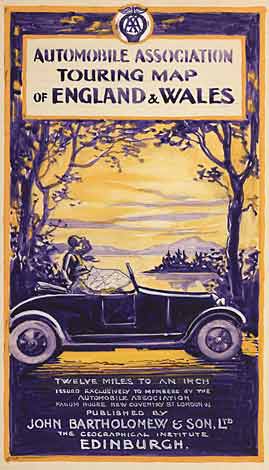 England and Wales map cover illustration, 1927
This map cover was produced for Bartholomew by the Glasgow-based firm John Swain & Son in 1927. It is for a touring map of England and Wales that Bartholomew were printing for the Automobile Association.
On this occasion, it appears that the AA rejected this design, as we have yet to discover a printed version.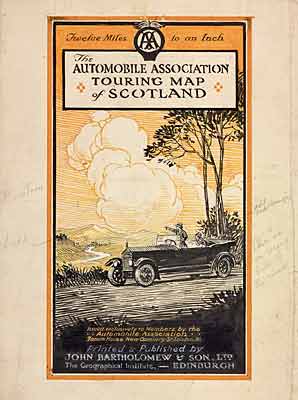 Scotland map cover illustration, 1927
This cover was produced for an Automobile Association touring map of Scotland in 1927. It made it to print — unlike the England and Wales cover (see previous image) — but not without revision.
Pencil annotations in the margin of this cover suggest changes such as 'mountains' and 'car is on wrong side of the road'.