Draughting tools
Bartholomew's draughtsmen used a wide variety of tools in their work. Some of the tools were high-precision instruments, imported from places like Switzerland. Others were home-made, the draughtsmen recycling odds and ends that could be found easily around the home.
The tools were deceptively difficult to use and required a steady hand and a delicate touch.
Shown here is a selection of the draughting tools that belonged to David Anderson, one of Bartholomew's draughtsmen.
You can also read about David's apprentice training.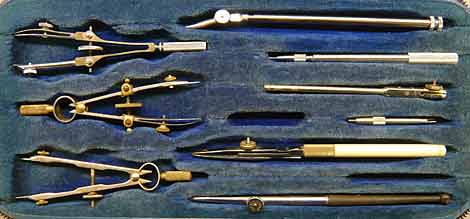 David Anderson's draughting tools
Mastering tools such as these dividers and spring bows was yet another skill required of Bartholomew's draughting apprentices. The tools are surprisingly delicate, and require great precision in their use.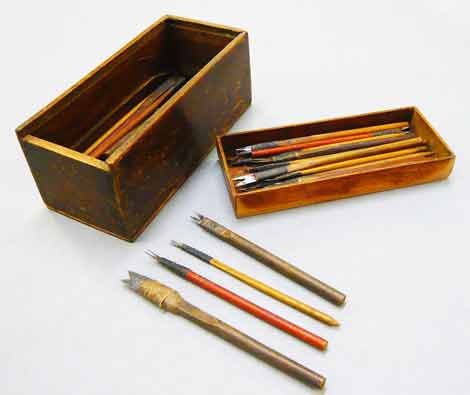 Line-drawing tools
Tools like these were used to draw fine lines and pairs of lines, to guide the lettering on maps. It was the apprentice's job to make tools like this for the department. During his apprenticeship, Willie Hall recalled using a wide variety of materials to make these tools. The metal tip could be made from flattened watch springs or fountain pen nibs and the wooden handles were made out of skewers or knitting needles.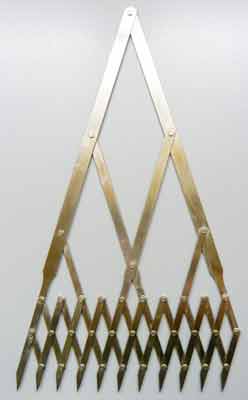 Spacing divider
This is a spacing divider. It was helpful for drawing sets of parallel lines, such as lines of latitude or longitude. Unlike the home-made tools, this was a precision instrument, made in Switzerland. It was a very expensive tool and apprentices were expected to buy their own, however, tools like this lasted a lifetime.